About Dr. Julie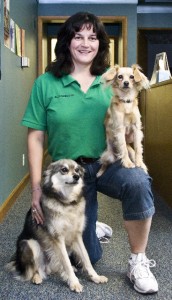 Julie N. LoMonaco, D.C. (Dr. Julie)
I am a graduate of Palmer Chiropractic College in Davenport Iowa. I have a BA from Buffalo State College in New York. I grew up in the upstate NY area with 3 older brothers. In my senior year of college as I was considering taking the LSAT exam I went to Davenport to visit the brother of a friend who was in his final year at Palmer. I fell in love with Chiropractic and all it stood for. I felt that this is what healthcare should be…prevention, health, not disease care. I believe that we should try to prevent problems before they start with non-invasive care before moving on to other practices. I knew this was what I wanted to do…finally.
I am also an animal lover. I currently I have a dog and 2 cats. You may meet Bandit when you come in the office as he likes to come to work with me on occasion, although he is shy.
I believe in what I do and I believe it is a gift and privilege to serve.